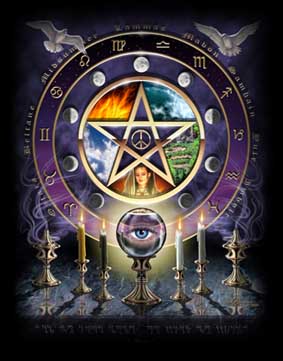 my friends..
i curse the day in which i discovered the website "Scribd"... and the day i searched for ancient gods materials ... at the day i found a document that greatly attract my interest... the document title is "freemasonry and the hidden goddess"... the document search in goddess worshiping signs in the images of the Freemasons ... and speaking of a matriarchal societies that once lived in peace.
one thing led to the other, and i find myself reading in Taoism, and its holy book tao te ching... the history of Freemasons... the ancient goddesses... archeological discoveries.. tantra philosophy... sacred sex ... and Wicca
strangely i find most of the texts and principles familiar .. too familiar actually.. they are simply materialize my believes in words .. i believed in many of these things even before i know they exist !!
suddenly my strange ideas started to have a meaning... my flashes started to be meaningful ... the voices i hear are true
i am not delusioned as some may thing .. i have just been reincarnated in the very wrong place, with the very wrong people
in another life i was a priestess...
my problem now is that i dont wanna reveal more of my hidden knowledge to myself ... cause i dont wanna practice those pagan rituals... and different magikal spells
i remember a freind of mine told me that when he started to read about these things he got scared .. so he stopped reading and closed all discussions about this matter... he said that sometimes ignorance is a bless... and he called me crazy for thinking about these things
i dunno how to keep myself from doing so.. i feel as if a black hole is sucking me in
help!
help!
my strange idea for today
i dont wanna be a witch
i dont wanna go back to my old self
i wanna be just normal